The production of bamboo toothbrush
The production of YangZhou MuHe Trading Co.,Ltd bamboo toothbrush
To whom it may concern
The Bamboo totohbrush is processed by physical method. It uses the machines, no any chemical process.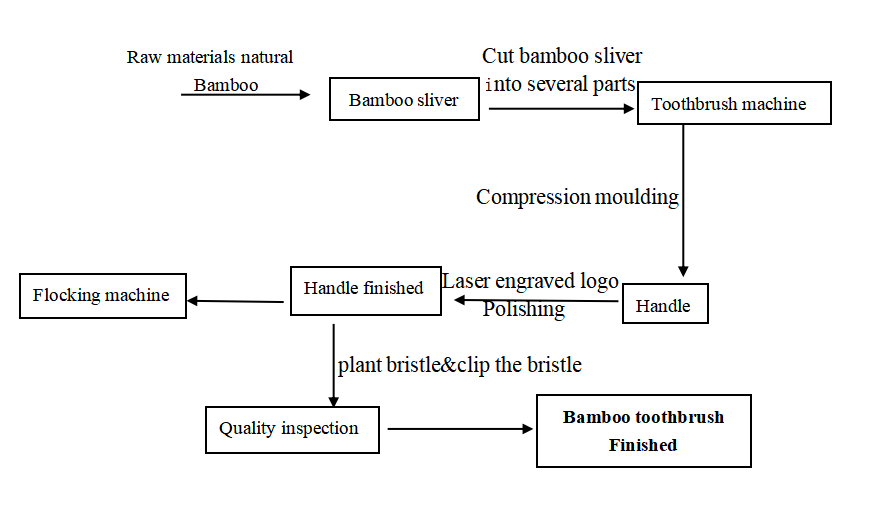 How Bamboo Toothbrush works
Bamboo toothbrush is a naturally anti bacterial product. They can be used for 3 months just like any other old plastic toothbrush.
The handle is made from bamboo, a natural material, which is degradable. Smooth surface easy to hold.
The bristles are BPA free, which are Nylon 610.
100% RECYCLABLE BOX: The box is made from kraft paper box .
Bamboo toothbrush is different from the plastic toothbrush. The handle is degradable, and the bristle keeps the same cleaning ability as traditional toothbrush. It can keep your oral clean and whitening your teeth. Make your smile more beautiful.
Ingredient :
MOSO Bamboo ,Nylon bristle.
Description:
| | |
| --- | --- |
| Product name | Bamboo toothbrush |
| Handle Material | MOSO bamboo |
| Size | 17.2cm |
| Weight | 6.0g |
| The origin of Bamboo | HuNan,China |
| Bristle Material | Nylon 610 |
| Color of bristle | White |
| The diameter of bristle | 0.18mm |
| The origin of Bristle | WuXi,China |
WWW.jm-bamboolife.com